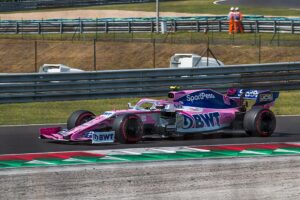 According to The Associated Press on Wednesday, Canadian Formula One Driver Lance Stroll of Montreal, Quebec tested positive for coronavirus. Stroll spent 10 days at home in self isolation before his negative test on Monday.  It is expected that he will return to the Portugese Grand Prix on Sunday from Portimao.
Due to coronavirus, Stroll did not compete at the Eifel Grand Prix in Nurburg, Germany on October 11. The race was memorable as it was won by Lewis Hamilton of Great Britain. With the victory, Hamilton tied Michael Schumacher of Germany for the most Formula One wins all-time with 91.
Stroll competes for BWT Racing Point. He is one of two drivers on the team who has tested positive this season. Sergio Perez of Mexico tested positive earlier in the year and missed the races in Great Britain. When Perez and Stroll missed their races, they were replaced on the team by Nico Hulkenberg of Germany.
Stroll has not had a result in Formula One since finishing on the podium and in third place at the Italian Grand Prix in Monza on September 6. He was unable to finish the Tuscan Grand Prix on September 13 and the Russian Grand Prix in Sochi on September 27.
Currently ninth in the Formula One standings, Stroll has 57 points. Hamilton leads with 230 points.