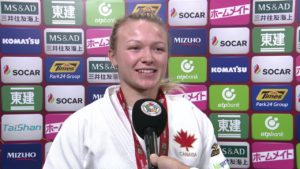 For the third time in her career, Jessica Klimkait of Whitby, Ontario has won the gold medal at a grand slam event on the International Judo Federation Tour. Klimkait placed first at the Grand Slam Hungary in Budapest in the women's 57-kilogram category on Friday according to CBC Sports. 
Klimkait went undefeated throughout the entire event. She defeated Flaka Loxha of Kosovo and Ivelina Ilieva of Bulgaria in Pool A action. That was followed by wins over Hedvig Karakas of Hungary in the semifinals and Helene Receveaux of France in the gold medal match. Karakas and Timna Nelson Levy of Israel each won the bronze medal.
Klimkait won all four of her matches in Hungary via an ippon, the highest score a judokan can achieve during a match. In her victory over Receveaux, she only needed 81 seconds to be victorious.
Canada has the top two judokans in the world in the women's 57 kilogram weight class. Christa Deguchi of Lethbridge, Alberta is first with 6456 points. Klimkait is second with 5980 points. However, only one of these two high-performance Canadian athletes will be able to represent Canada at the 2020 Olympic Games in Tokyo in 2021. Klimkait's two prior grand slam victories came in Osaka, Japan in 2018, and in Dusseldorf, Germany earlier this year.