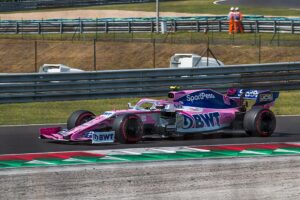 Lance Stroll of Montreal, Quebec recorded his first career pole position for a Formula One race on Saturday at the 2020 Turkish Grand Prix in Istanbul. He becomes the first Canadian to have a pole position in a Formula One race since Jacques Villeneuve of Saint-Jean-sur-Richelieu, Quebec had the pole position of the European Grand Prix from Jerez, Spain on October 26, 1997.
In qualifying for the Turkish Grand Prix in Istanbul, Stroll had a time of one minute, 47.765 seconds. He was 0.29 seconds faster than Max Verstappen of the Netherlands, who had a time of one minute, 48.055 seconds.
The pole position for Stroll in Turkey could be considered a significant surprise. That is because Stroll is 11th in the World Drivers' Championship Standings, and has had to retire from four races this season. Stroll also had to withdraw from the Eifel Grand Prix in Nurburg, Germany because he had coronavirus.
When it comes to the 2020 Formula One championship, Lewis Hamilton of England has a chance of claiming the title on Sunday. Hamilton wins the championship if Valtteri Bottas of Finland does not outscore him by eight points or more.
In Formula One, only the top 10 drivers are in the points. First place receives 25 points, second place gets 18 points, third place receives 15 points, fourth place receives 12 points, fifth place receives 10 points, sixth place receives eight points, seventh place receives six points, eighth place receives four points, ninth place receives two points, and 10th place receives one point. So in order for Bottas to have a mathematical chance of still winning the championship, he needs to be at least in the top six on Sunday, and hope that Hamilton does not have the best of races.