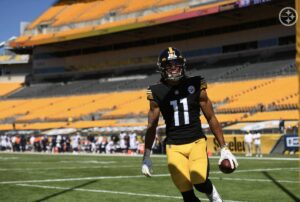 Chase Claypool of Abbotsford, British Columbia continued his fine rookie season on Sunday. Claypool caught four passes for 56 yards and two touchdowns as the Pittsburgh Steelers trounced the Cincinnati Bengals 36-10. This was the second time this season that Claypool had a multi-touchdown game. He had a remarkable four major scores in the Steelers' 38-29 win over the Philadelphia Eagles on October 11.
Claypool scored Pittsburgh's final two touchdowns on Sunday. He caught an 11-yard pass from Steelers quarterback Ben Roethlisberger at 10:38 of the third quarter to put the Steelers up 29-7. This was the only scoring in the third quarter.
Roethlisberger then found Claypool again at the 4:29 mark of the fourth quarter with a five-yard touchdown pass. At the time, the Steelers went up 36-7. Bengals kicker Randy Bullock recorded a 37-yard field goal to close out the scoring with just over five minutes left.
For the first time in franchise history, the Steelers are at 9-0, and Claypool is a major reason why. He leads the team with seven touchdown receptions, and is second on the Steelers in receiving yards with 500. Juju Smith-Schuster leads the Steelers with 516 receiving yards. One should also realize that Claypool also has an additional two rushing touchdowns in 2020 for nine touchdowns overall, which also leads Pittsburgh.