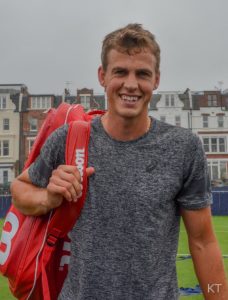 Vasek Pospisil of Vernon, British Columbia will be in his third career ATP Final on Saturday. In the semifinal of the 2020 Sofia Open from Bulgaria, Pospisil defeated Richard Gasquet of France, the three-time grand slam semifinalist, 6-7, 6-2, 6-0. Pospisil will now play Jannik Sinner of Italy in Saturday's final.
Pospisil won 12 of the last 14 games in the match after losing a tight tiebreak by a score of 8-6 in the first set. Once again, Pospisil's serve was working extremely well, as he had 17 aces compared to Gasquet's one. Pospisil also did not record a double fault in the three sets of action. He was also able to win 89% of the total points from his first serve.
Pospisil was also able to break Gasquet's serve five times, while Gasquet was unable to break Pospisil's serve whatsoever. In the second and third set, Pospisil won a remarkable 11 straight games.
This will be the first time ever that Pospisil will have played Sinner. Pospisil, who is 74th in the world, is 30 years of age. Sinner is 44th in the world, and 19 years of age. In the other semifinal, Sinner defeated the fifth-ranked player, Adrian Mannarino of France, 6-3, 7-5.
Pospisil's first career ATP Final was in August of 2014 in Washington, when he lost 6-1, 6-4 to fellow Canadian Milos Raonic of Thornhill, Ontario. Then this past February in Montpellier, France, Pospisil lost to Gael Monfils of France 7-5, 6-3 in the final.