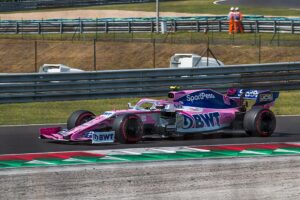 For the second time in his career, Lance Stroll of Montreal, Quebec landed on the podium for a Formula One Race. While racing for Team Racing Point, Stroll placed third at the 2020 Italian Grand Prix in Monza, Italy.
Stroll finished behind champion Pierre Gasly of France, and Carlos Sainz Jr. of Spain. Gasly drives for AlphaTauri-Honda, and Sainz Jr. drives for McLaren-Renault. Stroll's third place time was one hour, 47 minutes, 9.414 seconds. He reached the podium by 2.642 seconds over Lando Norris of Great Britain, who had a fourth place time of one hour, 47 minutes, 12.056 seconds. Gasly's first place time was one hour, 47 minutes, 6.056 seconds. Sainz Jr.'s second place time was one hour, 47 minutes, 6.471 seconds.
Stroll was able to move up an unprecedented five places during the Italian Grand Prix. He initially started eighth. Pole sitter and Formula One points leader Lewis Hamilton of Great Britain was given a penalty for entering the pit lane when it was closed, and ended up finishing in seventh place.
Stroll's previous podium finish was a third place in Azerbaijan in 2017. At the time, Stroll was competing for Williams Martini Racing. With the third place finish in Italy, Stroll is in fourth place in the Formula One World Drivers' Championship Standings. With 57 points, he is behind Hamilton (164 points), Valtteri Bottas of France (117 points), and Max Verstappen of the Netherlands (110 points).