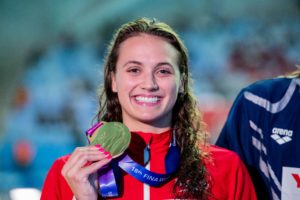 Kylie Masse of Windsor, Ontario has won Canada's fifth medal of the 2020 Olympic Games in Tokyo in 2021. The 25-year-old won the silver medal in the women's 100 metre backstroke.
Masse posted a second-place time of 57.72 seconds. Kaylee McKeown of Australia won the gold medal with a time of 57.47 seconds. Regan Smith of the United States won the bronze medal with a time of 58.05 seconds. Masse reached the podium by 0.71 seconds over Rhyan White of the United States, who posted a fourth place time of 58.43 seconds.
McKeown's 57.47 seconds was an Olympic record. The Australian also has the world record time of 57.45 seconds, which was set at the Australian Olympic Trials in Adelaide on June 13. McKeown is one of two swimmers to set a world record in an individual event in 2021. The other is Benedetta Pilato of Italy, who set a world record in the women's 50m breaststroke on May 22, 2021 at the European Championships in Budapest (29.30 seconds).
Masse meanwhile narrowly missed her Canadian record of 57.70 seconds, which was set at the 2021 Canadian Olympic Swimming Trials in Toronto on June 19. Like McKeown who missed the world record by two one-hundredths of a second, Masse just missed the Canadian record by .02 seconds.
This was Masse's second Olympic medal of her career. She placed third at the 2016 Olympic Games in Rio de Janeiro.
Team Canada now has five medals at the 2020 Olympic Games in Tokyo in 2021 (one gold medal, three silver medals and one bronze medal). They are 10th in the overall medal standings.