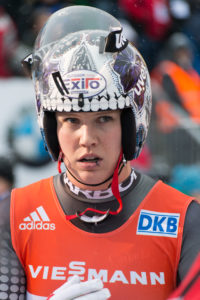 Alex Gough of Calgary, Alberta and Kimberley McRae of Victoria, British Columbia each earned medals in a women's World Cup in Lake Placid, New York on Saturday. It was Gough's second silver medal in the women's World Cup this season after finishing second earlier this month in Calgary.
Gough posted a time of 1:28.315. Natalie Geisenberger of Germany won the gold medal with a time of 1:28.211. McRae's bronze medal winning time was 1:28.352.
Gough reached the podium by 0.46 seconds and McRae reached the podium by a remarkable nine one-thousandths of a second. Tatjana Huefner of Germany, who won the gold medal in women's luge at the 2010 Olympic Winter Games in Vancouver, finished fourth with a time of 1:28.361.
Gough is in third place in the World Cup standings with 453 points and McRae is in sixth with 323 points. The World Cup leader in women's skeleton is Geisenberger with 610 points. There is no doubt that Gough and McRae are making progress heading into the 2018 Olympic Winter Games in Pyeongchang, but it remains a difficult challenge for each of them to get by a very powerful women's German luge team.
Meanwhile in men's doubles luge on Friday, Tristan Walker and Justin Snith won the bronze medal. Walker and Snith posted a third place time of 1:27.683 for their first World Cup medal of the season. Toni Eggert and Sascha Benecken of Germany won the gold medal with a time of 1:26.806. Peter Penz and Georg Fischler of Austria won the silver medal with a time of 1:27.440.
Walker and Snith reached the podium by .083 seconds over Christian Oberstolz and Patrick Gruber, who finished in fourth place with a time of 1:27.766. Walker and Snith are now in eighth place in the World Cup standings with 282 points. Eggert and Benecken lead with 685 points.