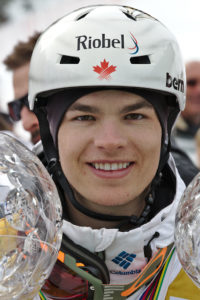 Canadian Olympic gold medalist Mikael Kingsbury of Sainte-Agathe-des-Monts, Quebec won the gold medal in a World Cup at Canada Olympic Park in Calgary on Saturday. For Kingsbury, it was his 53rd career World Cup gold medal in men's moguls and eighth in Calgary as he previously won in 2011, 2012, 2013, 2014, 2015, 2016 and 2018. The only time since 2011 that Kingsbury did win the World Cup men's moguls competition in Calgary was 2017 when he was beaten by Matt Graham of Australia and had to settle for silver.
Kingsbury had 84.17 points in the final in Calgary on Saturday. Walter Wallberg of Sweden won the silver medal with a score of 80.98 points. Daichi Hara of Japan won the bronze medal with 78.14 points. Kingsbury reached the podium by 7.05 points over Graham, who finished in fourth place with a score of 77.12 points.
Kingsbury currently has 964 points on the World Cup men's moguls circuit in 2018-19. Dmitriy Reikherd of Kazakhstan is second with 507 points.
Kingsbury's dominance on the World Cup circuit in 2018-19 is remarkable. He has won all three World Cup men's moguls competitions and the only men's dual moguls competition, which took place in Thaiwoo, China on December 16. The last World Cup men's moguls race that Kingsbury did not win was on March 4, 2018, when he was beaten by Ikuma Horishima of Japan in Tazawako, Japan.
Kingsbury won the gold medal in men's moguls at the 2018 Olympic Winter Games in Pyeongchang. He won a silver medal for Canada at the 2014 Olympic Winter Games in Sochi, and will be a top gold medal favourite for Canada at the 2022 Olympic Winter Games in Beijing,