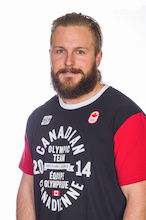 Canadian Olympic gold medalist Justin Kripps of Summerland, British Columbia and Ryan Sommer of White Rock, British Columbia teamed up to win a World Cup silver medal at Canada Olympic Park in Calgary, Alberta on Saturday. For Kripps, it was his fourth World Cup two-man bobsled medal of the season, but first with Sommer, as the other three medals came with Cameron Stones of Whitby, Ontario. All four of Kripps's World Cup medals this season were silver.
Kripps posted a second place time of 1:50.93. Francesco Friedrich and Thorsten Margis of Germany won the gold medal with a time of 1:50.84. Johannes Lochner and Christopher Weber of Germany won the bronze medal with a time of 1:51.07.
Kripps and Sommer reached the podium by 0.27 seconds over Yunjong Won and Youngwoo Seo of South Korea. Won and Seo had a fourth place time of 1:51.20.
It was a marvelous World Cup season for Friedrich, as he won all eight World Cup two-man competitions. Four races came with Margis as his brakeman, while Alexander Schuller and Martin Grothkopp won two races each. Kripps, who finished eighth in the World Cup two-man standings, did not compete in three World Cup races this season.
Kripps won the Olympic gold medal with Alexander Kopacz of London, Ontario in the two-man bobsled at the 2018 Olympic Winter Games in Pyeongchang. Kripps will be a strong medal contender for Canada at the 2022 Olympic Winter Games in Beijing.Kripps's focus now however will be the 2019 World Bobsled and Skeleton Championships in Whistler, British Columbia, which takes place starting Friday.