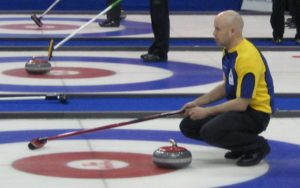 Kevin Koe is all alone in first place at 3-0 after the second day of the 2017 Canadian Olympic Curling Trials in Ottawa, Ontario. But there is no doubt that the two-time world champion is very fortunate to be undefeated.
Koe won his first game of the day by beating reigning Olympic champion Brad Jacobs of Sault Ste. Marie, Ontario 8-6 in an extra end. Jacobs was in complete control throughout the entire match, but was heavy with his final stone in the 11th end which allowed Koe to steal two points.
Then in the evening draw, Koe once again needed an extra end for the victory. He was trailing Reid Carruthers of Winnipeg 4-3 after eight ends, but got some help from Carruthers in the ninth end, when the Manitoba skip accidentally tipped Koe's rock in the four foot closer to the button. Koe would pick up his deuce in the ninth, take a 5-4 lead, see Carruthers tie the game at 5-5 and then win the match 6-5 in 11 ends.
The other men's team undefeated is Mike McEwen of Winnipeg who is 2-0. McEwen beat John Morris of Winnipeg 3-1 in a very defensive battle. On Monday, McEwen plays John Epping of Toronto in the afternoon and Koe plays Brendan Bottcher of Edmonton in the evening.
On the women's side, there are three teams undefeated–Winnipeg's Jennifer Jones, Calgary's Chelsea Carey and Lethbridge's Casey Scheidegger. Jones beat Michelle Englot of Winnipeg 8-5 in the morning and then Allison Flaxey of Toronto 10-5 in the evening to move to 3-0. Carey beat Valerie Sweeting of Edmonton 7-4 to move to 2-0 and Scheidegger beat Krista McCarville of Thunder Bay 7-5 to also move to 2-0.