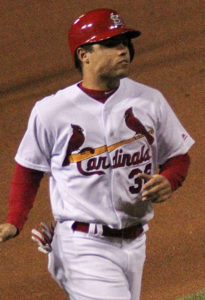 The Toronto Blue Jays acquired shortstop Aledmys Diaz from the St. Louis Cardinals on Friday. In return, the Blue Jays sent outfielder prospect J.B. Woodman to the Cardinals.
Diaz is a 27 year old native of Santa Clara, Cuba. The Blue Jays will hope that Diaz's offensive numbers do not dip as much from 2017 to 2018 as much as they did from 2016 to 2017.
In 2016, Diaz was a National League all-star and was fifth in National League rookie of the year voting. He batted .300 with 17 home runs and 65 runs batted in. Diaz also led the Cardinals with a .510 slugging percentage, and scored 71 runs, 121 hits, 28 doubles, three triples and four stolen bases. There was hope in St. Louis that Diaz would be the next Ozzie Smith.
However in 2017, Diaz only batted .259 with seven home runs and 20 runs batted in during 286 at bats. He was also sent down to the Memphis Redbirds of the Pacific Coast League, lost his starting job at shortstop to rookie Paul DeJong and tore his hamstring.
It will now be interesting to see exactly where Diaz will fit into the Blue Jays lineup. My guess is that he will backup Devon Travis at second base or Troy Tulowitzki at shortstop. With the decision to acquire Diaz, the Blue Jays decided not to bring back infielder Ryan Goins and starting pitcher Tom Koehler.