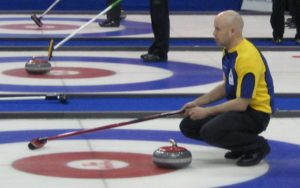 Kevin Koe of Calgary, Alberta continues to win close games at the 2017 Canadian Olympic Curling Trials in Ottawa, Ontario. On Tuesday, Koe defeated Mike McEwen of Winnipeg, Manitoba 6-5 to improve to a perfect record of five wins and zero losses.
Like every game Koe has played in the tournament to date, he had to come from behind. Koe got off to a slow start as he was trailing 2-0 to McEwen after the third end before scoring three points in the fourth end. McEwen was actually lucky to be up 2-0 because Koe missed a double takeout attempt in the third end which allowed McEwen to steal a point.
However Koe took control thereafter and even though McEwen tied the game in the sixth and ninth ends, the Calgary skip curled with a quiet sense of confidence. In the tenth end, he once again showed why he is one of the best curlers in the world. Koe delivered with a difficult takeout for the winning point.
Koe is the lone undefeated team in men's play. On the women's side, Winnipeg's Jennifer Jones is 5-0 and Calgary's Chelsea Carey is 4-0. Jones beat Casey Scheidegger of Lethbridge, Alberta 8-7 in a tight 11-end contest where Jones did not have the momentum for the majority of the contest and was out curled by the southern Alberta skip. Carey meanwhile had a more convincing win on Tuesday as she beat Allison Flaxey of Toronto 9-3.
Carey plays Jones Wednesday afternoon in the women's battle of the unbeatens. Koe meanwhile plays John Epping of Toronto Wednesday afternoon.