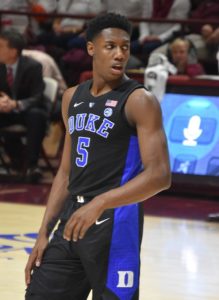 According to the Canadian Press on Thursday, New York Knicks shooting guard RJ Barrett of Toronto, Ontario has donated $100,000 to the Mississauga Food Bank in southern Ontario. The generous donation will help provide 200,000 meals to people in need. In all, Barrett is making a $250,000 donation to Canada and New York.
This is a very difficult time for all Canadians and New Yorkers as they try to stay safe during the coronavirus pandemic. There are currently 13, 519 cases of coronavirus in the province of Ontario. There are also 763 deaths. Of the 13, 519 cases, approximately 70% have come in long term care facilities according to Chris Selley of the National Post.
Meanwhile, coronavirus has completely hammered the American state of New York. There are currently 276, 711 cases of coronavirus in New York alone and 21, 823 deaths. To put this into perspective, New York has more cases of coronavirus than every other nation in the world except the United States. Outside the United States, only Italy, Spain and France have more deaths than New York.
Barrett is only 19 years of age and was in his rookie season with the Knicks after playing his college basketball with the University of Duke. In 56 games in 2019-20, he averaged 14.3 points per game, five rebounds per game and 2.6 assists per game. He also had a .402 shooting percentage, a .320 percentage from beyond the arc, and a .614 free throw percentage.
In 2019-20, Barrett had a career high 27 points in a game twice this season. The first time came in a 143-120 Knicks win over the Atlanta Hawks on December 17, 2019 and the second time came in a 125-123 Knicks win over the Houston Rockets on March 2, 2020.