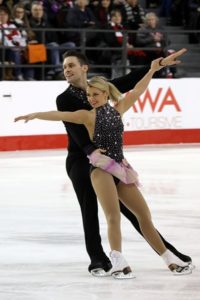 Canadian Olympic silver medalist Kirsten Moore-Towers of St. Catharines, Ontario and Michael Marinaro of Sarnia, Ontario won the silver medal on Saturday in the pairs competition at the NHK Trophy International Skating Union figure skating Grand Prix event in Sapporo, Japan. Moore-Towers and Marinaro won one of two medals for Canada in the competition as Roman Sadovsky of Toronto, Ontario won the bronze medal in men's singles.
Moore-Towers and Marinaro had 208.49 points. Wenjing Sui and Cong Han of China won the gold medal with 226.96 points. Anastasia Mishina and Aleksandr Galliamov of Russia won the bronze medal with 203.35 points. Moore-Towers and Marinaro reached the podium by 19.15 points over fourth place finishers Alisa Efimova and Alexander Korovin of Russia, who had 189.34 points.
Sadovsky had 247.5 points. Yuzuru Hanyu of Japan won the gold medal with 305.05 points. Kevin Aymoz of France won the silver medal with 250.02 points. Sadovsky reached the podium by 8.45 points over Sergei Voronov of Russia, who finished in fourth place with 239.05 points.
Moore-Towers and Marinaro reached the 2019 International Skating Union Grand Prix Final with the silver medal in the pairs competition in Sapporo. That will take place from December 5-7, 2019 in Turin, Italy. Two other Canadians will be in the Grand Prix Final as Piper Gilles of Toronto, Ontario and Paul Poirier of Ottawa, Ontario are in the ice dance final.
Moore-Towers won the silver medal in the team competition for Canada at the 2014 Olympic Winter Games in Sochi with Dylan Moscovitch of Toronto, Ontario. The medals won by Moore-Towers, Marinaro and Sadovsky will give them confidence in preparations for making the Canadian Olympic team for the 2022 Olympic Winter Games in Beijing.