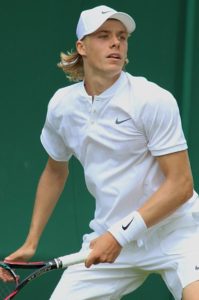 It was a great day of tennis for Denis Shapovalov of Toronto, Ontario as Canada reached its first ever Davis Cup Final on Saturday. Shapovalov won in singles and doubles as Canada defeated Russia two rubbers to one from Madrid, Spain.
Shapovalov's singles victory came over Karen Khachanov in the second men's semifinal by a 6-4, 4-6, 6-4 scoreline. Shapovalov and Khachanov are very similar in the world rankings as Shapovalov is 15th and Khachanov is 17th.
Shapovalov and Khachanov had the exact number of total points won in the match at 89 apiece. However, Shapovalov was able to break Khachanov three times, while Khachanov was only able to break Shapovalov twice. Shapovalov's serve was working a lot more dynamic. Shapovalov had 11 aces, compared to Khachanov's five aces.
Then in men's doubles, Shapovalov and Vasek Pospisil of Vernon, British Columbia beat Khachanov and Andrei Rublev of Russia 6-3, 3-6, 7-6. Rublev had beaten Pospisil in the first rubber 6-4, 6-4.
Canada then played Spain in the Davis Cup Final on Sunday. In the first match, Roberto Bautista Agut defeated Felix Auger-Aliassime of Montreal, Quebec 7-6, 6-3 and in the second match, Rafael Nadal defeated Shapovalov 6-3, 7-6 to give Spain their sixth title in the history of tennis's premier team competition. However by reaching the semifinals, Canada automatically qualifies for the 2020 Davis Cup in Madrid.