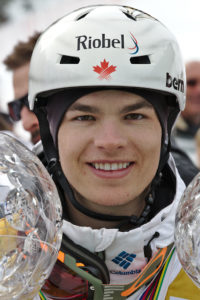 Mikael Kingsbury of Sainte-Agathe-des-Monts, Quebec won the gold medal in a World Cup in Calgary, Alberta on Saturday. For Kingsbury, it was his fourth consecutive World Cup gold medal in moguls this season.
Kingsbury, who is the most dominant Canadian athlete heading into the 2018 Olympic Winter Games in Pyeongchang, posted a winning score of 89.55 points. Dmitriy Reikherd of Kazakhstan won the silver medal with a score of 86.43 points. Matt Graham of Australia won the bronze medal with a score of 83.23 points.
Kingsbury reached the podium by 6.64 points over Sho Endo of Japan. He now has taken over from Marc Bischofberger of Switzerland as the World Cup leader in all freestyle skiing events with 400 points and has a 160 point lead on Reikherd.
In women's World Cup moguls action, Canadian Olympic gold medalist Justine Dufour-Lapointe of Montreal, Quebec, earned her first podium finish of the season with a bronze medal. Dufour-Lapointe had 81.3 points, to beat out her Canadian teammate, Andi Naude of Regina, Saskatchewan, by the slimmest of margins of 0.07 points. Naude finished with 81.23 points after having the best qualifying score in the first final (83.92 points). Britteny Cox of Australia won the gold medal with 82.11 points. Perrine Laffont of France won the silver medal with 81.64 points.
Dufour-Lapointe is in sixth place in the World Cup standings with 152 points. Cox leads with 256 points.