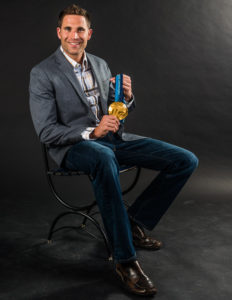 Kaitlyn Lawes and John Morris of Winnipeg, Manitoba will represent Canada in mixed doubles curling at the 2018 Olympic Winter Games in Pyeongchang. On Sunday, Lawes and Morris beat Val Sweeting of Edmonton, Alberta, and Brad Gushue of St. John's, Newfoundland 8-6 in the final of the 2018 Canadian Mixed Doubles Curling Trials in Portage La Prairie, Manitoba.
Lawes and Morris recorded a big score of four points in the fourth end. They were down 3-1 at the time, and were able to take a 5-3 lead. Lawes and Morris then stole two points in the fifth end to take a commanding 7-3 lead when Sweeting's final stone hit a guard. Sweeting and Gushue bounced back with three unanswered points to pull within 7-6, but on her final rock Sweeting was unable to keep her shooter around in an attempt to steal a point in the final end.
Morris and Lawes's mother were elated after the victory. Morris yelled out "We're going to Korea baby," and Lawes's mother came on to the ice surface and wrapped herself around with the Canadian flag.
Morris and Lawes have won an Olympic gold medal for Canada before in traditional, four-person curling as thirds. Morris won with Kevin Martin in men's curling at the 2010 Olympic Winter Games in Vancouver and Lawes won with Jennifer Jones in women's curling at the 2014 Olympic Winter Games in Sochi.