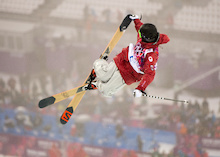 Noah Bowman of Calgary, Alberta and Simon d'Artois of Whistler, British Columbia won the silver and bronze medals respectively in a men's World Cup men's halfpipe skiing competition at Copper Mountain, Colorado on Friday. It was the second podium performance of the season for d'Artois as he won the bronze medal in a men's halfpipe skiing World Cup in Cardrona, New Zealand on September 1.
Bowman posted a score of 91 points and d'Artois had a score of 89.2 points. Reigning Olympic gold medalist David Wise of the United States won the gold medal with 92.8 points. Canadian Olympic silver medalist Mike Riddle of Edmonton, Alberta finished in fourth place with a score of 88.2 points.
In the World Cup standings for men's halfpipe skiing, d'Artois is in second place with 120 points. Alex Ferreira of the United States is the leader with 122 points. Bowman is in sixth place with 80 points and Riddle is tied for seventh place with Birk Irving of the United States with 68 points.
Riddle and d'Artois both put up impressive results in men's pipe skiing at key competitions in 2017. Riddle won the silver medal in men's halfpipe at the 2017 World Freestyle Skiing and Snowboarding Championships in Sierra Nevada, Spain on March 18 and Bowman won the bronze medal in men's superpipe at the 2017 Winter X Games in Aspen Colorado. Bowman, Riddle and d'Artois are all medal contenders for Canada in men's halfpipe skiing at the 2018 Olympic Winter Games in Pyeongchang.