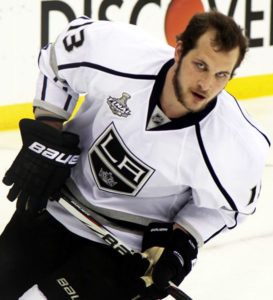 The Los Angeles Kings traded left winger Kyle Clifford of Ayr, Ontario and goaltender Jack Campbell to the Toronto Maple Leafs on Wednesday for left winger Trevor Moore according to Yahoo! Sports. The Maple Leafs were in need of a goaltender as it appears Frederik Andersen will be out the next while with a neck injury and the team was not comfortable with Michael Hutchinson being the regular number one.
With the addition of Clifford, the Maple Leafs also get some necessary grit. This is something Toronto clearly lacks at the moment. Clifford may only have 45 penalty minutes in 53 games for the Kings this season, but twice he has reached the 100 penalty minute plateau.
Offensively, Clifford has six goals and eight assists for 14 points. He is a -6 with 89 shots on goal, six faceoff wins, 12 blocked shots, 90 hits, 10 takeaways and 14 giveaways. Clifford is also a two-time Stanley Cup champion with the Kings in 2012 and 2014.
Campbell has a record of eight wins, 10 regulation losses and two losses in extra time in 20 games. He has a goals against average of 2.85 and a save percentage of .900.
Moore has three goals and two assists for five points in 27 games. He is a -3 with four penalty minutes, one shorthanded point, two faceoff wins, 12 blocked shots, 53 hits, 13 takeaways and 15 giveaways.