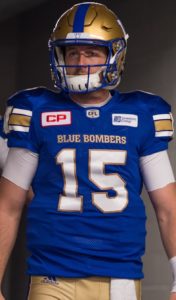 The Toronto Argonauts signed quarterback Matt Nichols from the Winnipeg Blue Bombers on Tuesday. Nichols was one of three players Toronto signed this week as they also signed wide receiver Natey Adjei of Mississauga, Ontario from the Edmonton Eskimos and defensive back Tommie Campbell from the Montreal Alouettes.
Nichols is heading into his eighth Canadian Football League season. He spent his first three seasons with the Eskimos and has quarterbacked Winnipeg since 2015. Nichols became expendable in Winnipeg when they decided to go with Zach Collaros as their quarterback for the 2020 season instead. In Toronto, Nichols is expected to battle McLeod Bethel-Thompson for the starting job.
In 2019, Nichols completed 254 passes in 392 attempts for 3146 yards, 18 touchdowns and 13 interceptions. He also had nine rushes for 37 yards and one touchdown.
Adjei is returning to the Argonauts after playing the 2014 and 2015 seasons with the Boatmen. He has been with the Eskimos the last four seasons. In 2019, Adjei had a career year as he caught 58 passes for 534 yards and two touchdowns.
Campbell has spent the last four seasons in the Canadian Football League. He was with the Stampeders in 2016 and 2017 and then the Montreal Alouettes in 2018 and 2019. Last season in Montreal, Campbell played 16 games and had 66 tackles, three interceptions and two forced fumbles.
A CFL All-Star with the Stampeders in 2016, Campbell also brings National Football League experience to the Argonauts. He played three seasons with the Tennessee Titans from 2011 to 2013 and then with the Jacksonville Jaguars in 2014. In 44 NFL games, Campbell had 27 tackles, one forced fumble and one punt return for a touchdown. The punt return touchdown came on September 23, 2012 in a 44-41 Titans win over the Detroit Lions. Campbell caught the football on a lateral and ran 65 yards for the major score.