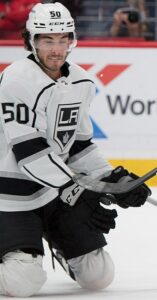 According to Rogers Sportsnet on Saturday, the Los Angeles Kings traded defenseman Sean Durzi of Mississauga, Ontario to the Arizona Coyotes for a second round draft pick in the 2024 National Hockey League Entry Draft on Saturday. The Coyotes will be Durzi's second National Hockey League franchise as he previously played the last two seasons with the Los Angeles Kings.
In 2022-23, Durzi had nine goals and 29 assists for 38 points in 72 games. He was a -12 with 50 penalty minutes, 16 power-play points, one game-winning goal, 110 shots on goal, 142 blocked shots, 68 hits, 21 takeaways, and 61 giveaways.
Durzi's game-winning goal came on November 12, 2022 in a 4-3 Kings win over the Detroit Red Wings. He scored from Phillip Danault of Victoriaville, Quebec and Arthur Kaliyev at 6:23 of the second period to put the Kings up 3-1 at the time.
Also in the game against the Red Wings, Durzi had the only two-goal game of his NHL career. He scored again in the second period on the power-play from Danault and Kaliyev at 13:41 to put the Kings up 4-1. This goal was Durzi's only power-play goal of the season as his other 15 power-play points were power-play assists.
Durzi was initially the second round pick, 52nd overall by the Toronto Maple Leafs in the 2018 NHL Entry Draft. He was then traded by the Maple Leafs with right winger Carl Grundstrom and defenseman Tobias Bjornfot for defenseman Jake Muzzin of Woodstock, Ontario on January 28, 2019.