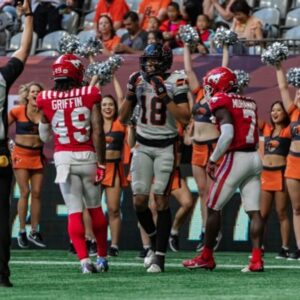 For the last three Canadian Football League seasons (2019, 2021 and 2022), you could make the argument that the Winnipeg Blue Bombers have been the most dominant team. They won the Grey Cup in 2019 and 2021, and represented the Western Division in the 2022 Grey Cup before losing to the Toronto Argonauts.
In week three of the 2023 CFL regular season, it was the Blue Bombers who were dominated, as they were spanked at home by the British Columbia Lions 30-6 at the Investors Group Field in Winnipeg. How rare of a home loss was this for Winnipeg? Well, it was their first regulation loss at home since September 27, 2019 when they were beaten 33-13 by the Hamilton Tiger-Cats. Winnipeg was undefeated at home all of 2021, and lost 20-17 in overtime to the Montreal Alouettes last year.
In Winnipeg's loss to BC on Thursday, a Canadian contributed as wide receiver Justin McInnis of Pierrefonds, Quebec was the only Canadian-born Canadian Football League player to register a touchdown for a winning team during the week. He accomplished the feat with 10 minutes left in the fourth quarter on a 12-yard catch from Lions quarterback Vernon Adams Jr. to close out the scoring. With the win, the Lions improved to a record of three wins and zero losses for six points, and lead the West Division.
For McInnis, it was his first touchdown with the Lions. He now has 10 catches for 150 yards on the season. Last season McInnis had two touchdowns for the Saskatchewan Roughriders.