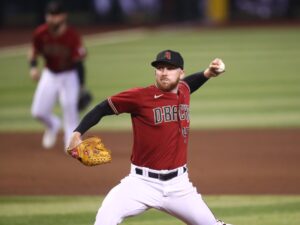 The Toronto Blue Jays acquired lefthanded pitcher Travis Bergen of McDonough, Georgia from the Arizona Diamondbacks, for cash considerations on Sunday according to Rogers Sportsnet. Bergen is actually returning to Toronto after starting the 2020 season with the Blue Jays. He was then traded to the Diamondbacks for starting pitcher Robbie Ray of Brentwood, Tennessee, on August 31, 2020.
In eight games during the 2020 Major League Baseball regular season, Bergen had a record of one win, zero losses, one save, an earned run average of 3.24, and a WHIP of 1.68. In eight games, and 8 1/3 innings pitched, Bergen gave up five hits, three earned runs, and nine walks, along with 11 strikeouts. Clearly, control was a problem for Bergen as he had more walks than innings pitched.
Bergen's win and save both came with the Diamondbacks. On September 4, Bergen beat the San Francisco Giants 6-5 at Oracle Park in San Francisco. Bergen pitched a scoreless fourth inning, as he only gave up one walk in the three batters he faced. Of the six strikes he had, four came when the batter was looking. Then on September 10, Bergen picked up the save in a 5-2 Diamondbacks win over the Los Angeles Dodgers. In this outing, Bergen faced the final two batters of the game, and had one strikeout.
Bergen is a 27-year-old lefthander. In addition to the Diamondbacks, he has played for the Giants.