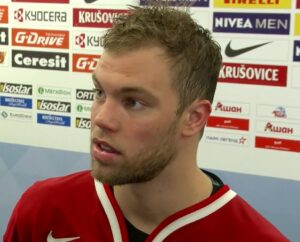 According to Greg Dudek of nesn.com on Monday, the Boston Bruins traded left wingers Taylor Hall of Calgary, Alberta and Nick Foligno to the Chicago Blackhawks for defensemen Ian Mitchell of St. Albert, Alberta and Alec Regula. The big name in this deal is clearly Hall, who was the first overall pick of the Edmonton Oilers in 2010, and won the Hart Trophy with the New Jersey Devils in 2017-18.
The Blackhawks become the sixth team that Hall has played for in his National Hockey League career. He previously played for the Oilers (2010 to 2016), Devils (2016 to 2019), the Arizona Coyotes (2019 to 2020), Buffalo Sabres (2020 to 2021), and the Boston Bruins (2021 to 2023).
This past season for Boston, Hall had 16 goals and 20 assists for 36 points in 61 games. He was a +11 with 24 penalty minutes, with eight power play points, five game-winning goals, 150 shots on goal, four faceoff wins, 33 blocked shots, 35 hits, 24 takeaways, and 41 giveaways.
By acquiring Hall, one will now have to legitimately speculate if he will play on the same line as Connor Bedard of North Vancouver, British Columbia. The Canadian Hockey League phenom is widely expected to be the first overall pick of the 2023 National Hockey League Entry Draft which will take place in Nashville on Wednesday.