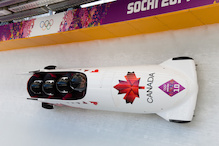 According to CBC Sports on Sunday, Justin Kripps of Summerland, British Columbia won his second medal for Canada on the weekend at a World Cup bobsled competition in St. Moritz, Switzerland. A day after winning the silver medal with Cameron Stones of Oshawa, Ontario on Saturday, he was back driving the Canadian four-man team, and Team Canada came through with a bronze medal.
The Canadian team which also included Ryan Sommer of White Rock, British Columbia, and Benjamin Coakwell of Regina, Saskatchewan, along with Stones, posted a third place time of two minutes, 10.05 seconds. The German squad of Francesco Friedrich, Martin Grothkopp, Alexander Schueller, and Thorsten Margis, had a gold medal winning time of two minutes, 9.56 seconds. Meanwhile, Austria's Benjamin Maier, Kristian Huber, Markus Sammer, and Danut Ion Moldovan had a silver medal winning time of two minutes, 9.85 seconds.
Team Canada reached the podium by five one-hundredths of a second. The German team of Johannes Lochner, Christopher Weber, Florian Bauer, and Christian Rasp finished in fourth place with a time of 2:10.10.
This was the second time Team Canada has reached the podium in a World-Cup bobsled this season. They also won silver last weekend in Winterberg, Germany. Kripps is currently tied for second in the World Cup standings with Maier as they both have 410 points. Friedrich leads with 450 points. The bronze medal for Kripps, Sommer, Coakwell, and Stones will give them confidence as they prepare for the 2022 Olympic Winter Games in Beijing.