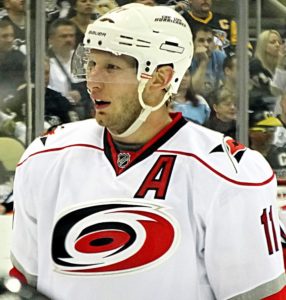 Jordan Staal of Thunder Bay, Ontario scored his second career Stanley Cup Playoff overtime goal on Tuesday. He scored the winner at the 2:03 mark of the first overtime period as the Carolina Hurricanes defeated the Nashville Predators 3-2 at the PNC Arena in Raleigh, North Carolina in game five of the Central Division semifinals. With the win, the Hurricanes take a three games to two lead in the best out of seven series.
Staal's game-winner was unassisted. For the second straight night in the Stanley Cup Playoffs, a Canadian player scored an overtime winner after receiving a gift from the opposing goaltender. On Monday, Josh Bailey of Bowmanville, Ontario scored the unassisted game-winning goal in overtime in the New York Islanders 3-2 win over the Pittsburgh Penguins.
The Hurricanes bounced back in the series, after losing the last two games in Nashville. The Predators won game three of the series 5-4 and game four of the series 4-3. Both playoff games in the Music City went to double overtime as Canadian Olympic gold medalist Matt Duchene of Haliburton, Ontario was the overtime hero in game three. Duchene won the gold medal for Canada in men's hockey at the 2014 Olympic Winter Games in Sochi. Game six of the series between the Predators and Hurricanes is Thursday back in Nashville.
Jordan Staal's first career Stanley Cup Playoff overtime winner came on April 26, 2019. He scored the only goal of the game for Carolina in a 1-0 win over the New York Islanders in game one of the Eastern Conference semifinals. The Hurricanes would go on to sweep the Islanders in four games.