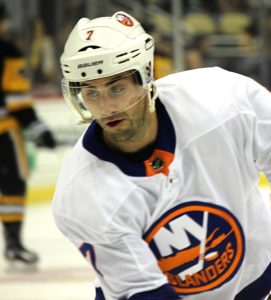 Jordan Eberle of Regina, Saskatchewan was instrumental in keeping the New York Islanders season alive on Tuesday. Eberle scored the overtime winner at 12:30 of the second overtime period from Anders Lee in a 2-1 Islanders win over the Tampa Bay Lightning. With the win, the Islanders won the fifth game of the Eastern Conference Final from Rogers Place in Edmonton, Alberta, but the Tampa Bay Lightning still lead the best out of seven series three games to two.
Eberle was one of two Canadians to score for the Islanders on Tuesday. The other was defenseman Ryan Pulock of Dauphin, Manitoba.
For Eberle it was his first career overtime winner in the Stanley Cup Playoffs. So far in the 2020 Stanley Cup Playoffs, Eberle has five goals and nine assists for 14 points. He is a +3 with 10 penalty minutes, two power play goals, two game winning goals, 51 shots on goal, one faceoff win, 13 blocked shots, 24 hits, 12 takeaways, and 19 giveaways.
Game six of the Eastern Conference Final will be on Thursday from Edmonton. The winner of the series will play the Dallas Stars in the Stanley Cup Finals. The Stars beat the Vegas Golden Knights four games to one in the Western Conference Final.