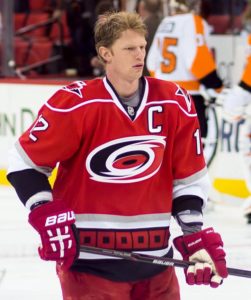 Canadian Olympic gold medalist Eric Staal of Thunder Bay, Ontario has been traded from the Minnesota Wild to the Buffalo Sabres according to Darren Dreger of TSN. Staal, who now joins his fourth National Hockey League franchise, won a gold medal for Canada at the 2010 Olympic Winter Games in Vancouver. Marcus Johansson was the only other player involved in the Wednesday deal, as he moved from the Sabres to the Wild.
In 2019-20, Staal played 66 games and had 19 goals and 28 assists for 47 points. He was a -9 with 28 penalty minutes, 14 power play points, five games winning goals, 113 shots on goal, 495 faceoff wins, 22 blocked shots, 24 hits, 25 takeaways and 46 giveaways.
Staal first joined the National Hockey League with the Carolina Hurricanes in 2003. He would spend the next 12 seasons in Carolina, and won a Stanley Cup with the Hurricanes in 2006. That same season he was on the NHL's second all-star team. A four-time all-star with the Hurricanes, Staal was also the captain of the Hurricanes from 2010 to 2016.
During the 2015-16 season, Staal was traded to the New York Rangers. He played only 20 games for the Rangers, before moving to Minnesota, where he has played the last four seasons.
In an interesting note, the person responsible for acquiring Staal in Buffalo was Sabres general manager Kevyn Adams. A former NHL centre, Adams won a Stanley Cup with Staal and the Hurricanes in 2006.