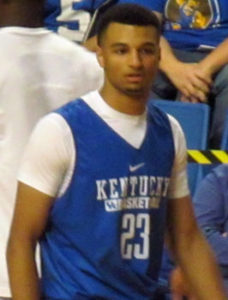 Jamal Murray of Kitchener, Ontario is continuing to have a marvelous 2020 NBA Playoff. On Tuesday from the Orlando bubble, Murray led the Denver Nuggets with 40 points in a 104-89 win over the Los Angeles Clippers in game seven of the Western Conference Semifinal. With the win, the Nuggets won the best out of seven series four games to three.
This was the third time in the series that Murray led the Nuggets in scoring when Denver won the game. He also had 27 points in game one on September 5 in a 110-101 Denver victory, and 26 points in game five on September 11 in a 111-105 Denver victory.
In game seven, Murray had 15 field goals, six three-pointers, and four three-throws. He was also a +15 on the floor.
Murray was not the only Nugget to have a memorable game seven against the Clippers. Nikola Jokoc had a triple double, as he had 16 points, 22 rebounds, and 13 assists.
So far in the 2020 NBA Playoff, Murray is averaging 27.1 points per game, 6.4 assists per game and five rebounds per game. He also has a field goal percentage of .502, three-point percentage of .491, and free throw percentage of .913.
The Nuggets also became the first team in NBA history to come back from a three games to one deficit to win the series twice in the same playoff. They also accomplished the feat against the Utah Jazz in the Western Conference Quarterfinals. Denver will now play the Los Angeles Lakers in the Western Conference Finals starting Friday.