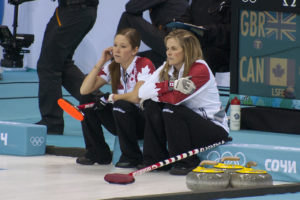 Jennifer Jones of Winnipeg, Manitoba skipped Team Canada to two shootout wins in women's action on Friday at the 2019 World Curling Cup Grand Final in Beijing, China. Team Canada beat the United States 8-7 in the morning and then Team China 7-6 in the afternoon.
The Canadian win over the United States was a little lucky. With Canada leading 7-5 in the eighth end, American skip Nina Roth came up light with her final stone (failed to get the rock into the rings) in a chance for the United States to score three points. The American team had to settle for the deuce, and then lost the game in a shootout when they could not bite the button and the Canadian team could.
Despite being undefeated, the Canadian women have not advanced to the final as of yet. Due to the fact two of their wins have come in a shootout, they did not receive the maximum three points for those victories and only have 10 points. Team Canada leads Japan by three points and still has games left with China and the United States.
Things are also looking well for Laura Walker of Edmonton, Alberta and Kirk Muyres of Saskatoon, Saskatchewan in the mixed doubles portion of the World Curling Cup Grand Final. Walker and Muyres moved into first place after a 9-2 win over China and a 9-8 win over the United States. They also got some help from Switzerland, who beat the United States 10-8. Team Canada is in first place with a record of four wins and one loss, and have two more points than the Americans.