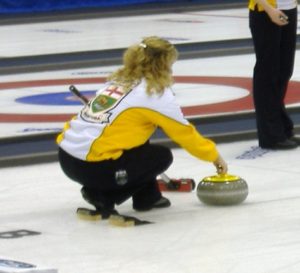 Reigning Canadian Olympic gold medalist Jennifer Jones of Winnipeg, Manitoba began her title defense of the Canadian Olympic Curling Trials  in Ottawa with an impressive 9-6 win over Valerie Sweeting of Edmonton. It was a slow start for Jones on day one of the trials as she was down 3-0 after the first end, but marched back with the vengeance and secured a three point victory.
The turning point in the contest came in the ninth end. With the game tied at six points each, Sweeting was facing three Jones stones in the four foot, and was unable to knock out any of Jones's stones, as she ran off Jones's stone at the top of the four foot and moved into the eight foot.
There was also an upset on the men's and women's side. John Epping of Toronto upset reigning world champion Brad Gushue of St. John's, Newfoundland 6-4 and Chelsea Carey of Calgary upset reigning world champion Rachel Homan of Ottawa 8-4. Other scores on the men's side on Saturday had Kevin Koe of Calgary defeating Steve Laycock of Saskatoon 6-3, Brad Jacobs of Sault. Ste. Marie, Ontario beating John Morris of Kelowna 5-3 and Mike McEwen of Winnipeg beating Reid Carruthers of Winnipeg 7-3. On the women's side, Casey Scheidegger of Lethbridge beat Allison Flaxey of Toronto 6-5 and Krista McCarville of Thunder Bay beat Michelle Englot of Winnipeg 9-4.
The biggest games on Sunday have Valerie Sweeting playing Chelsea Carey in an all-Alberta battle in the evening. On the men's side, the biggest matches are Koe versus Jacobs in the morning and Morris versus McEwen in the afternoon.