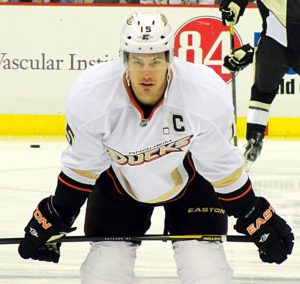 When the Anaheim Ducks  lost Canadian Olympic gold medalist Ryan Getzlaf of Regina, Saskatchewan on October 29 in Carolina, there was some concern how the franchise would manage offensively without him. Getzlaf is one of the Ducks top centers and led Anaheim last year with 58 assists and 73 points. He also holds the Ducks franchise records for most assists in a season (66 in 2008-09) and points by a center in a season (91 in 2008-09).
Anaheim was already thin up the middle. Center Ryan Kesler has not yet played a game this season because of offseason hip surgery.
However, over the last month, the Ducks have stayed in contention. During the month of November, Anaheim remain striking distance of a playoff spot and are only three points back of the Calgary Flames.
Ducks management need to be praised for a deal they made this past week. Ducks general manager Bob Murray pulled the trigger on a deal with the New Jersey Devils. The Ducks acquired center Adam Henrique of Brantford, Ontario, Joe Blandisi and a third round draft pick in the 2018 National Hockey League Entry Draft for defenseman Sami Vatanen. When Getzlaf and Kesler return to the Anaheim's lineup, a possible current weakness at the center position will end up being a definite strength.
History shows you simply cannot go wrong with centers from Brantford. Just ask Oilers Nation who saw the greatest athlete in the history of civilization play on their team throughout the 1980s.