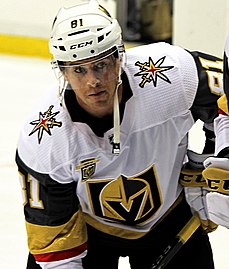 Jonathan Marchessault of Cap-Rouge, Quebec recorded his second National Hockey League postseason hat trick on Sunday. He accomplished the feat in a 5-2 Vegas Golden Knights win over the Edmonton Oilers in game six of the second round of the 2023 Stanley Cup Playoffs from Rogers Place in Edmonton, Alberta. With the win, the Golden Knights won the best out of seven series four games to two. Vegas will now play either the Seattle Kraken or the Dallas Stars in the Western Conference Finals.
All three of Marchessault's goals came in the second period. He initially tied the game at two at 4:26 of the second period from Shea Theodore of Langley, British Columbia and Ivan Barbashev. Marchessault then put the Golden Knights up 3-2 at 7:44 of the second period from Barbashev and Alec Martinez. Marchessault's hat trick put Vegas up 4-2 from Jack Eichel and Canadian Olympic gold medalist Alex Pietrangelo of King City, Ontario. Pietrangelo won a gold medal for Canada in men's hockey at the 2014 Olympic Winter Games in Sochi. 
Marchessault's prior postseason hat trick came in game four of the second round of the 2021 Stanley Cup Playoffs on June 6, 2021. Vegas defeated the Colorado Avalanche 5-1.
Marchessault has three regular season hat tricks in his NHL career. They came in a 7-0 Florida Panthers win over the Chicago Blackhawks on March 25, 2017, in a 7-3 Golden Knights win over the Pittsburgh Penguins on January 19, 2019, and in a 4-3 Golden Knights win over the New Jersey Devils on December 3, 2019.
In the 2023 Stanley Cup Playoffs, Marchessault has five goals and five assists for 10 points in 11 games. He is a +9 with 12 penalty minutes, two game-winning goals, 46 shots on goal, three blocked shots, 32 hits, three takeaways and eight giveaways.