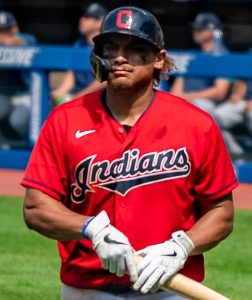 Cleveland Guardians first baseman Josh Naylor of Mississauga, Ontario made baseball history over the weekend. He became the first Major League Baseball player in the expansion era (since 1961) to hit a go-ahead home run in the eighth inning or later in three straight games according to ESPN.
Naylor's first eighth inning go-ahead home run came on May 12 in a 5-4 Guardians loss to the Los Angeles Angels. At the time of the eighth inning home run, the Guardians went up 4-3, but Emmanuel Clase pitched a poor ninth inning for Cleveland and was unable to pick up the save.
The second eighth inning go-ahead home run Naylor hit came on May 13 in an 8-6 Guardians win over the Angels on May 13. When he came up to bat, the Guardians were trailing the Angels 6-4. Then Naylor hit a three-run home run that scored Jose Ramirez and Josh Bell to put Cleveland up 7-6. The home run came off of former Toronto Blue Jays reliever Ryan Tepera.
Then on Mother's Day, Naylor broke a 1-1 tie in the eighth inning with a three-run home run. The Guardians went on to win the game 4-3. Naylor's three run shot scored Ramirez and Myles Straw and came off of Angels reliever Carlos Estevez.
In 36 games this season, Naylor is batting .214 with six home runs and 26 runs batted in. He has scored 11 runs and had 27 hits, four doubles, three stolen bases, 11 walks, 49 total bases, three sacrifice flies, an on base percentage of .271 and a slugging percentage of .389.
The Guardians meanwhile are in second place in the American League Central. They are three games back of the first place Minnesota Twins.