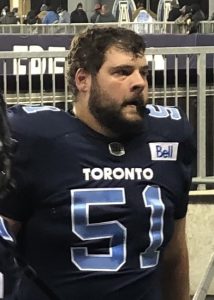 According to the Canadian Press on Sunday, the Toronto Argonauts have traded offensive lineman Theren Churchill of Stettler, Alberta to the Edmonton Elks for a conditional draft pick. At this time, the draft pick is the sixth round draft pick in the 2024 Canadian Football League Draft. However, the draft pick will rise to a fifth round draft pick if Churchill is on the Elks's 45-man roster for nine games this season.
Churchill has played 21 CFL games in his career. He played 10 games for the Argonauts in 2021, and 11 games for the Argonauts in 2022.
At 28 years of age, Churchill is 6'6″, 295 pounds. He played his university career in Regina. Churchill was initially drafted in the first round, ninth overall, in the 2020 CFL Draft. He was one of four offensive lineman drafted in the first round of the 2020 CFL Draft. Churchill was joined by Tomas Jack-Kurdyla of Montreal, Quebec (fourth overall by Edmonton), Coulter Woodmansey of Toronto, Ontario (fifth overall by the Hamilton Tiger-Cats) out of the University of Guelph, and Mattland Riley of Melfort, Saskatchewan (seventh overall by the Saskatchewan Roughriders) out of the University of Saskatchewan.
Churchill joins the Elks as a Grey Cup champion. He was on the Argonauts team that defeated the Winnipeg Blue Bombers 24-23 at Mosaic Stadium in Regina, Saskatchewan on November 20.