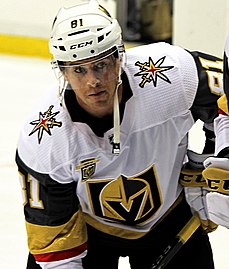 Jonathan Marchessault of Cap-Rouge, Quebec recorded his first Stanley Cup Playoff career hat trick on Sunday. He scored thrice in a 5-1 Vegas Golden Knights win over the Colorado Avalanche at T-Mobile Arena in Las Vegas, Nevada.
Marchessault scored his first goal of the game at 7:07 of the first period from William Karlsson. At the time, the Golden Knights tied the game at one goal apiece. Marchessault then scored his second goal of the game on the power-play at 11:28 of the second period from Canadian Olympic gold medalist Alex Pietrangelo of King City, Ontario, and Karlsson to put the Golden Knights up 3-1. Then at 6:01 of the third period, Marchessault put the Golden Knights 4-1 on a goal from Reilly Smith of Toronto, Ontario, and Karlsson. Pietrangelo won a gold medal for Canada at the 2014 Olympic Winter Games in Sochi.
Marchessault and Karlsson were the only Golden Knights with a multi-point game. In addition to Marchessault's hat trick, Karlsson had three assists. The other Golden Knights goal scorers were Patrick Brown and Max Pacioretty.
In the regular season, Marchessault has had three hat tricks. They came in a 7-0 Florida Panthers win over the Chicago Blackhawks on March 25, 2017, in a 7-3 Golden Knights win over the Pittsburgh Penguins on January 19, 2019, and in a 4-3 Golden Knights win over the New Jersey Devils on December 3, 2019. The Golden Knights are now tied with the Avalanche for the West Division title at two games apiece.