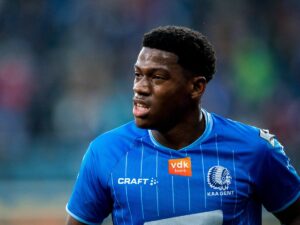 Jonathan David of Ottawa, Ontario continued to have a fine 2020-21 Ligue 1 season with Lille. On Sunday, the 21-year-old centre forward scored his 13th goal of the season in 37 games as Lille won their fourth Ligue 1 title in franchise history.
However, David's 13th goal on Sunday for Lille was very significant, as it was the opening goal of the game for Lille in the 10th minute in a 2-1 win over Angers. With the win, it would mean that Paris Saint-Germain could no longer catch Lille in the Ligue 1 standings. Lille finished with 83 points (24 wins, 11 draws and three losses), while Paris Saint-Germain finished with 82 points (26 wins, four draws, and eight losses).
Lille had previously won the Ligue 1 title in 1946, 1954, and 2011. In recent years Paris Saint-Germain has dominated French soccer, as they have won seven times in eight years dating back to 2013. The only team other than Paris Saint-Germain to win Ligue 1 from 2013 to 2020 was Monaco, which won in 2017. Prior to 2013, Paris Saint-Germain had only won two Ligue 1 titles, and those came in 1986 and 1994.
In 2020-21, David also had three assists in 37 Ligue 1 games. He had two multi-goal games, as he scored twice in a 2-0 Lille win over FC Nantes on February 7, and two more goals in a 2-0 Lille win over Marseille on March 3.