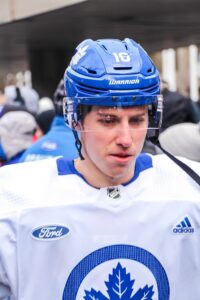 The Toronto Maple Leafs have tied their North Division semi-final series with the Montreal Canadiens at one game apiece. On Saturday, the Maple Leafs defeated the Canadiens 5-1 in game two of the best out of seven series from the Scotiabank Arena in Toronto, Ontario.
The Maple Leafs were led in scoring by Auston Matthews, who had one goal and two assists for three points. Two Canadian natives had a multi-point game for the Maple Leafs. Mitch Marner of Markham, Ontario had two assists, while William Nylander of Calgary, Alberta (who plays internationally for Sweden), had one goal and one assist for two points. Jason Spezza of Mississauga, Ontario, and Alexander Kerfoot of Vancouver, British Columbia also scored for the Maple Leafs. The other Maple Leafs' goal scorer was defenseman Rasmus Sandin.
Game two was much different from game one of the series, a 2-1 Montreal win. In the opening game, Carey Price was sensational. In game two, he was not, as Price gave up four goals on 33 shots.
Another interesting statistic from game two is that Spezza, at age 37, led the Maple Leafs in shots on goal with five. The veteran forward who is in his 18th season in the National Hockey League, is still trying to win his first Stanley Cup.