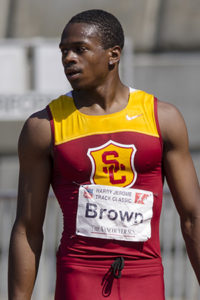 Three-time Canadian Olympic medalist Andre de Grasse of Scarborough, Ontario and Canadian Olympic bronze medalist Aaron Brown of Toronto, Ontario each medaled on Sunday at the opening Diamond League event of the 2021 track and field season from Gateshead, England. Brown won the silver medal in the men's 200 metres, while De Grasse was in the same race, and won the bronze medal.
Brown posted a second place time of 20.79 seconds. De Grasse had a third place time of 20.85 seconds. Brown reached the podium by 0.16 seconds over Vernon Norwood of the United States, and De Grasse reached the podium by a tenth of a second. Norwood's fourth place time was 20.95 seconds. Kenny Bednarek of the United States won the gold medal with a time of 20.33 seconds.
At the 2016 Olympic Games in Rio de Janeiro, De Grasse won the silver medal in the men's 200 metres, a bronze medal in the men's 100 metres, and a bronze medal in the men's 4×100 metre relay, alongside Brown. Both are considered Olympic medal contenders for Canada at the 2020 Olympic Games in Tokyo in 2021, however one must praise Bednarek for his exceptional time, as he beat Brown to the finish line by 0.46 seconds, and beat De Grasse by 0.52 seconds.