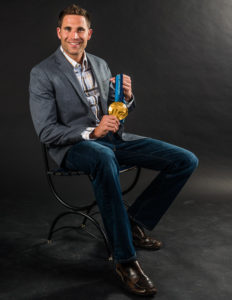 According to the Canadian Press on Wednesday, Canadian Olympic gold medalist John Morris of Winnipeg, Manitoba has announced his mixed doubles partner for the 2022-23 curling season. It will be Shannon Birchard of Winnipeg, who is the second for Kerri Einarson of Gimli, Manitoba.
Morris plans to just commit to mixed doubles. He was the second for Kevin Koe of Calgary, Alberta over the last two years. Morris's focus is the 2026 Olympic Winter Games in Milan-Cortina d'Ampezzo. 
High-performance Canadian curlers deciding to solely focus on mixed doubles is starting to occur in the curling landscape. Morris joins Lisa Weagle of Ottawa, Ontario, Laura Walker of Toronto, Ontario, and Canadian Olympic gold medalist Brad Jacobs of Sault Ste. Marie, Ontario.
Morris is a two-time Canadian Olympic gold medalist. He was the third for Kevin Martin of Killam, Alberta in men's curling at the 2010 Olympic Winter Games in Vancouver. Morris then won the gold medal in mixed doubles curling with Kaitlyn Lawes of Winnipeg, Manitoba at the 2018 Olympic Winter Games in Pyeongchang. Jacobs won the gold medal for Canada in men's curling at the 2014 Olympic Winter Games in Sochi.
There has been only one Canadian Mixed Doubles Curling Championship since 2019. The 2020 and 2022 Canadian Mixed Doubles Curling Championships were cancelled due to coronavirus. The 2021 champions were Canadian Olympic gold medalist Brad Gushue of St. John's, Newfoundland and Einarson. Gushue won a gold medal for Canada in men's curling at the 2006 Olympic Winter Games in Torino.