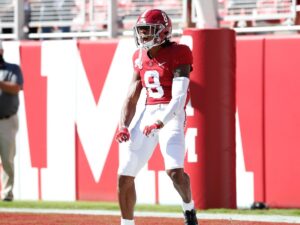 According to Justin Dunk of 3downnation.com, it was a memorable Monday night for University of Alabama Crimson Tide wide receiver John Metchie III of Brampton, Ontario. Metchie became the first Canadian to win a National Collegiate Athletic Association championship game in football since offensive lineman Peter Dyakowski of Vancouver, British Columbia won the Bowl Championship Series with the Louisiana State University Tigers in 2003. In an ironic twist, both Metchie and Dyakowski were both coached by the famous Nick Saban.
In Monday's game at Hard Rock Stadium in Miami, the Crimson Tide defeated the University of Ohio State Buckeyes 52-24. Metchie had eight catches for 81 yards. He finished the season with 55 catches for 916 yards and six touchdowns in 13 games, all Alabama wins. The Crimson Tide were the only college football team in the United States to go undefeated. With a record of 13 wins and zero defeats, Alabama had by far the most prolific offensive squad in college football this past season. The team included Heisman Trophy-winning wide receiver Devonta Smith, quarterback Mac Jones, and running back Najee Harris.
Metchie is actually very multicultural. He was born in Taiwan and lived in Ghana and Canada, before attending the United States for high school. Metchie spent the most formative years of his life in Canada, as he was there from the age of six up until 14. Now time will tell if Metchie III joins Pittsburgh Steelers wide receiver Chase Claypool of Abbotsford, British Columbia in the National Football League.