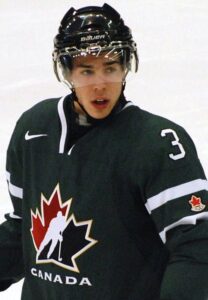 According to the Canadian Press on Tuesday, the Vancouver Canucks have signed defenseman Travis Hamonic from the Calgary Flames to a one-year deal worth $1.25 million. The Canucks become the third team Hamonic has played for in his National Hockey League career. In addition to the Flames, he has played for the New York Islanders.
Hamonic was initially given a tryout by the Canucks, before he made the team and given a contract. The St. Louis Blues went through a similar process with Mike Hoffman of Kitchener, Ontario.
A native of St. Malo, Manitoba, Hamonic played 50 games for the Flames last season and had three goals and nine assists for 12 points. He was a -3 with 27 penalty minutes, 83 shots on goal, 110 blocked shots, 39 hits, 21 takeaways, and 36 giveaways.
A defensive-minded defenseman, Hamonic has been known for his shot blocking throughout his career. He has reached the century mark in blocked shots in each of his first 10 NHL seasons including a career-high 167 blocked shots with the Flames in 2018-19.
The Canucks' National Hockey League season starts Wednesday night in Edmonton. Due to coronavirus concerns, Jordie Benn of Victoria, British Columbia, and J.T. Miller will not be available for Vancouver when they start the season.
The Canucks have their first four games of the season on the road. They also play Thursday in Edmonton, before playing Saturday and Monday, against Hamonic's former team, the Calgary Flames.