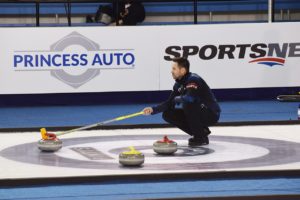 There are no more undefeated teams left at the 2021 Tim Hortons Brier in Calgary. On Wednesday evening, Ontario's John Epping defeated the second Wildcard team skipped by Kevin Koe, 9-3. This was Koe's first loss of the tournament, as he is now 6-1. It was a bounce-back win for Epping, as he lost to Quebec by a score of 10-7 earlier in the day.
Despite the loss, Koe still leads Pool B. Epping, Canadian Olympic Gold medalist Brad Gushue of St. John's, Newfoundland who is representing Team Canada, and Saskatchewan's Matt Dunstone are all at five wins and two losses.
In Pool A meanwhile, there was a historic game played Wednesday afternoon between Canadian Olympic gold medalist Brad Jacobs's Northern Ontario team and Manitoba's Jason Gunnlaugson. Jacobs came out victorious by a score of 3-0. The three points scored tied for the lowest number of points in a Brier game since 1980 according to TSN. The other three Brier games with only three points scored in the last 40 years all saw Prince Edward lose by scores of 2-1. New Brunswick beat Prince Edward Island 2-1 in 1990, Ontario beat Prince Edward Island 2-1 in 1993, and Manitoba beat Prince Edward Island 2-1 in 2000.
This was also Gunlaugsson's first loss, as he is now 5-1. He is tied for first place with the third wildcard team skipped by Wayne Middaugh.