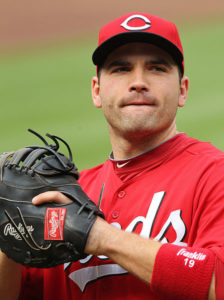 According to the Associated Press on Wednesday. Cincinnati Reds first baseman Joey Votto of Toronto, Ontario has tested positive for coronavirus while at the Reds spring training facility in Goodyear, Arizona. Due to the fact that we are still in a pandemic, one needs to question the importance of Major League Baseball going through with a spring training schedule. MLB could have followed the National Football League's lead this year and cancelled all of their preseason games.
Having spring training games in the coronavirus hotspots of Florida and Arizona is also questionable. Arizona alone has had 828,630 total cases of coronavius and 16,404 deaths. We also do not know at this time the number of active cases in the Grand Canyon state.
Votto is looking for a bounce-back season for 2021. In 2020, he had a very disappointing regular season. Votto batted .226 with 11 home runs and 22 runs batted in. Votto's .226 batting average was a career low by 29 percentage points.
It will also be interesting to see how the Reds manage this season without starting pitcher Trevor Bauer. Last season Bauer won the National League Cy Young Award after posting an excellent earned run average of 1.73 with Cincinnati. However on February 11, he left the Reds for the Los Angeles Dodgers, and signed a three-year deal worth a whopping $102 million.