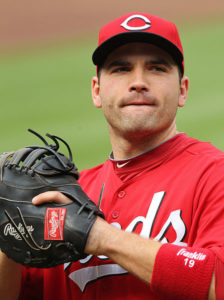 Cincinnati Reds first baseman Joey Votto of Toronto, Ontario won the 2017 Lou Marsh Award, which is presented to the most outstanding Canadian athlete every year. In 2017, Votto led Major League Baseball in number of times walked (134), times on base (321), and on base percentage (.454). He also led the National League with an on base plus slugging percentage of 1.032.
Votto is a great athlete, who obviously had a very productive season in 2017. He was an all-star for the fifth time and finished second in National League voting for most valuable player. He only lost out to Giancarlo Stanton of the Miami Marlins, who is now a member of the New York Yankees.
Where I have a problem with the voting is the fact that the Cincinnati Reds finished in last place in the National League Central with a record of 68 wins and 94 losses. Votto did not play in any games this season that mattered down the stretch and was not on the baseball diamond in games played in October, when the majority of sports fans watch baseball.
My vote would have gone to swimmer Kylie Masse of LaSalle, Ontario. Masse set a world record in the women's 100m backstroke with a time of 58.10 seconds in winning the gold medal at the 2017 World Aquatics Championship in Budapest, Hungary. She came up big on the world stage in swimming's biggest event of the year. In winning gold in world record time at a World Championship, Masse becomes the 2017 Canadian Sport Scene athlete of the year.