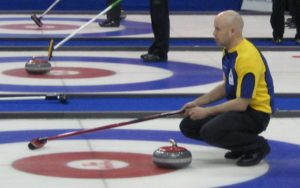 Kevin Koe of Calgary will skip Team Canada in men's curling at the 2018 Olympic Winter Games in Pyeongchang. On Sunday, Team Koe defeated Team McEwen, skipped by Mike McEwen of Winnipeg 7-6 in the men's final of the 2017 Canadian Olympic Curling Trials at the Canadian Tire Centre in Ottawa, Ontario.
Just like every other game involving Koe this week, the game was tight and came down to the final rock. This time, Koe made a tremendous draw to the four foot to secure the slim one point victory. However the draw could not have been perfect had it not been for the tremendous brushing by Koe's second Brett Laing, and lead Ben Hebert.
Team Koe had control of the contest at the halfway point of the match as he had a 4-3 lead and then stole a key point in the sixth end for a 5-3 lead. However McEwen marched back with a deuce in the seventh end to tie the game at 5. In the eighth, Koe regained the lead at 6-5, and things did not look well in the ninth end when Laing flashed. Luckily for the Koe team, McEwen second Matt Wozniak also missed his shot in the ninth end and moved the momentum again to Team Koe.
It was an excellent week for Koe, Hebert, Laing, and team third Marc Kennedy. The Alberta-based team only lost once all week (a 6-3 loss to reigning world champion Brad Gushue of St. John's, Newfoundland) and it came at a time when Koe already clinched first place in the round robin.