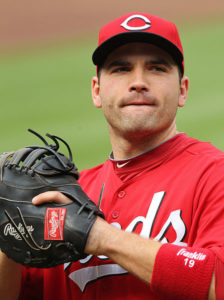 According to the Associated Press on Monday, Cincinnati Reds first baseman Joey Votto of Toronto, Ontario became the second Canadian in Major League Baseball history to record 2000 hits in a career. He accomplished the feat with a seventh-inning single in a 14-5 Reds win over the Chicago Cubs.
It would be one of two hits that Votto would collect in the inning. He also had a RBI single which scored second baseman Jonathan India, and put the Reds up 12-0. In addition to the two seventh inning singles, Votto had a single in the third inning.
All of Votto's 2000 career hits have come with the Reds. He has been the Cincinnati first baseman since the 2007 Major League season.
The only other Canadian to have 2000 hits in his Major League Baseball career was Larry Walker of Maple Ridge, British Columbia. Walker had 2160 hits from 1989 to 2005 with the Montreal Expos, Colorado Rockies, and St. Louis Cardinals.
Votto has put up big numbers since the All-Star break. In 29 games and 109 at bats, he has 15 home runs and 36 runs batted in, 23 runs scored, 37 hits, 19 walks, 87 total bases, two sacrifice flies, a .339 batting average, a .435 on base percentage, a .798 slugging percentage, and a 1.233 on base plus slugging percentage.
More importantly due to Votto's offensive surge, the Reds are in contention for a National League wildcard spot. At 65 wins and 55 losses, they are a game and a half back of the San Diego Padres for the second wildcard spot in the senior circuit.