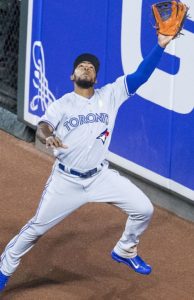 According to Rogers Sportsnet on Monday, Teoscar Hernandez of the Toronto Blue Jays has been named the American League Player of the Week for the week from August 9 to 15, 2021. It is the third straight week a Blue Jays player has received the honour, as the two previous weeks outfielder George Springer was recognized.
Only one other week this season was a Blue Jays player recognized with American League player of the week honours. That was first baseman Vladimir Guerrero of Montreal, Quebec, who was recognized for the week from June 21-27.
This past week, Hernandez batted .500 with three home runs and 10 runs batted in. He had his first career grand slam on August 11 in a 10-2 Blue Jays win over the Los Angeles Angels. Hernandez also scored eight runs, had 14 hits in 28 at bats, two doubles, a slugging percentage of .893, and an on base plus slugging percentage of 1.393.
Since the All-Star Break, Hernandez has been red hot, even putting up better numbers since the All-Star break, where he was an All-Star. During 29 games, Hernandez is batting .355 with nine home runs and 33 runs batted in. He has 23 runs scored, 38 hits, six doubles, two stolen bases, four walks, 71 total bases, a slugging percentage of .664, and an on base plus slugging percentage of 1.053.
The Blue Jays are currently at 63 wins and 54 losses. They are four games back of the Oakland Athletics for the second Wildcard spot.