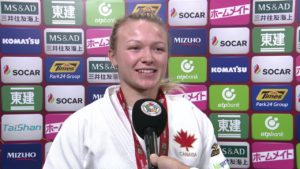 Jessica Klimkait of Whitby, Ontario made Canadian sports history on Monday by becoming the first ever Canadian Olympic female medalist in judo. The 24-year-old won the bronze medal in the women's 57 kilogram weight class. Klimkait is the 2021 world champion, and currently ranked number one in the world.
Klimkait was one of two bronze medalists in the women's 57 kilograms. The other was Tsukasa Yoshida of Japan. The gold medalist was Nora Gjakova of Kosovo, and the silver medalist was Sarah-Leonie Cysique of France. Cysique was the judoka who beat Klimkait in one of the two semifinals.
Gjakova becomes the third Olympic gold medalist all-time from the small country of Kosovo, which has a population of 1.8 million. In some interesting facts, Kosovo has only won three medals in the history of the Olympic Games, and all three have been women who have won an Olympic gold medal in judo. The other two are Majilinda Kelmendi, who won the gold medal in the women's 52 kilograms at the 2016 Olympic Games in Rio de Janeiro, and Distria Krasniqi, who won the gold medal in the women's 48 kilograms at the 2020 Olympic Games in Tokyo in 2021.
In Klimkait's Olympic competition in Tokyo, she defeated Ivelina Ilieva of Bulgaria in the round of 16, and then Julia Kowalczyk of Poland in the quarterfinals before beating Kaja Kajzer of Slovenia in the bronze medal match. She becomes the fifth Canadian judoka to medal at the Olympic Games. Klimkait follows Doug Rogers of Truro, Nova Scotia (silver, heavyweight, 1964 Olympic Games, Tokyo), Mark Berger of Winnipeg, Manitoba (bronze, heavyweight, 1984 Olympic Games, Los Angeles), Nicolas Gill of Montreal, Quebec, (bronze, men's middleweight, 1992 Olympic Games, Barcelona, and silver, men's half-heavyweight, 2000 Olympic Games, Sydney), and Antoine Valois-Fortier of Quebec City, Quebec (bronze, men's 81 kg, 2012 Olympic Games, London).